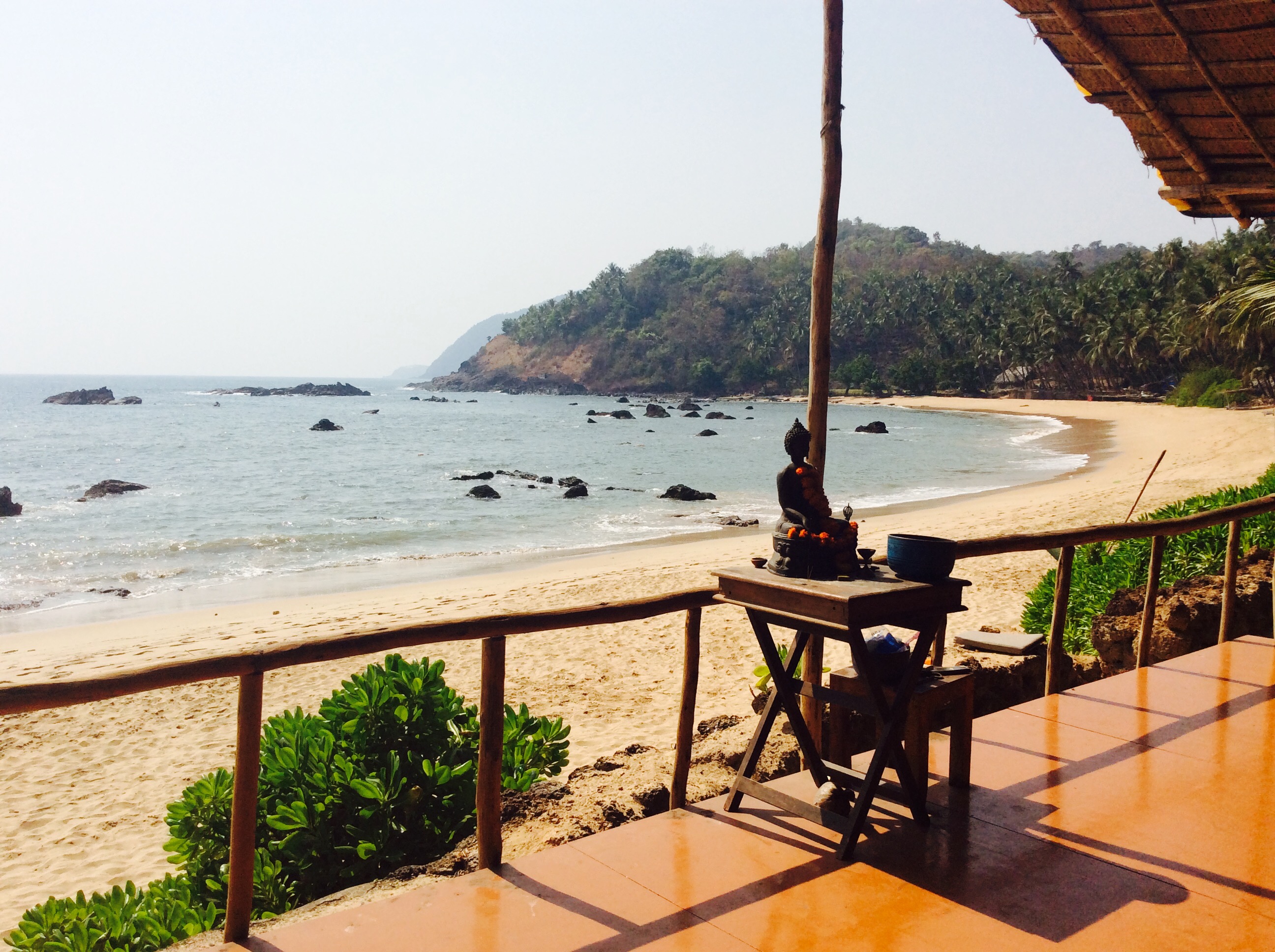 I am struggling to put pen to paper – or rather greasy sun-lotioned finger to smudgy iPad.
This is not because I am uninspired by Little Cove Yoga Retreat, Goa (first stop on my travels around southern India). Quite the opposite.
I am incapacitated by relaxation.
This is the place where time is forgotten, everything is done for you and nothing is asked of you.
There is a 'schedule' but it is voluntary. Yet no one here needs a watch to partake. Awoken by a cacophony of nature (But in a good way! Think: waves crashing over rocks and buzzing birds). Then, the delivery of a fresh mint tea – or hot beverage of your choice – to your varandah with a gentle call of 'good morning'. But no need to rush … there's plenty of time before morning yoga.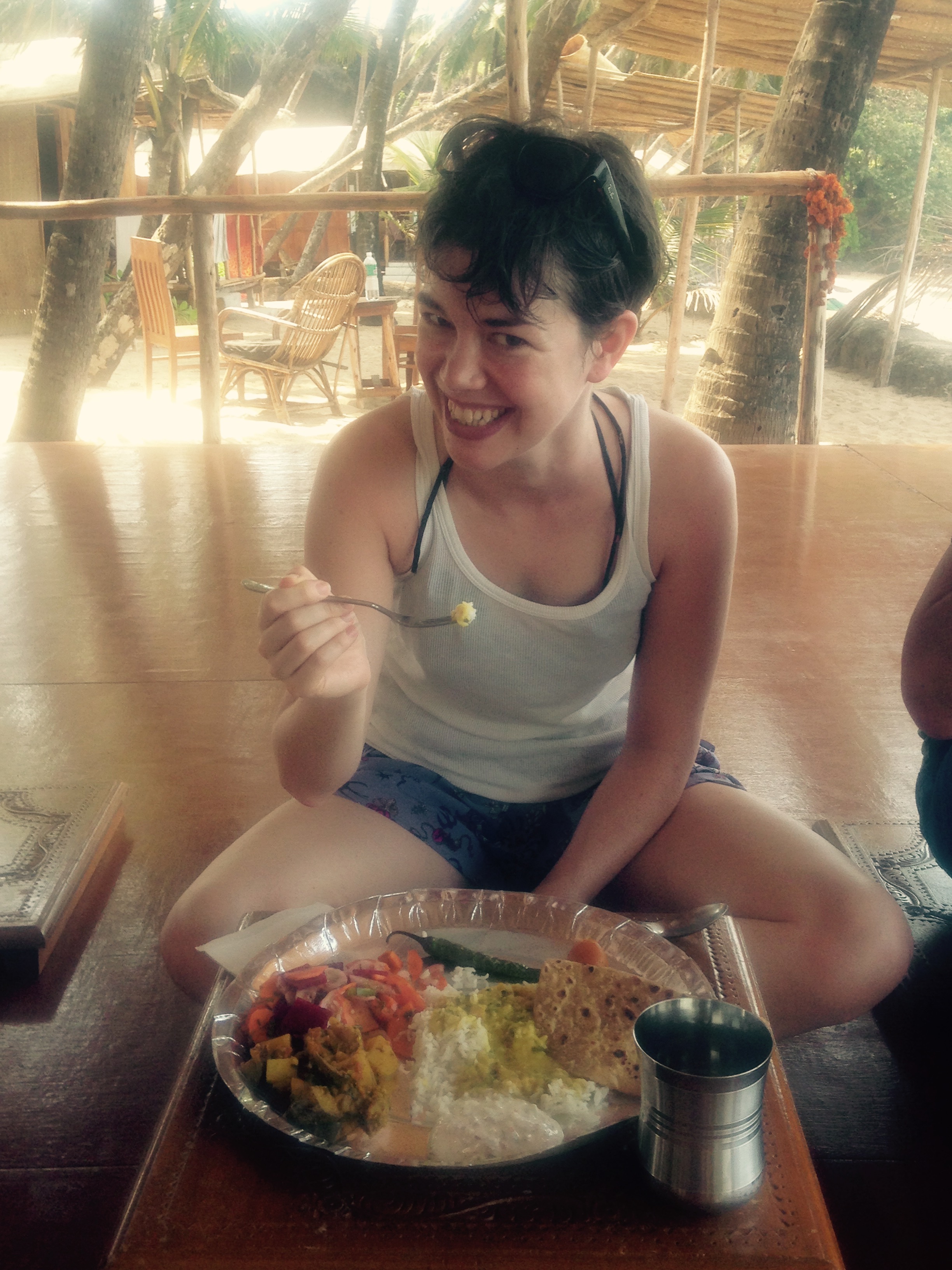 Lazy sunny days
The day is then left to your (generally lazy) whim. Yet time is marked with a series of events – an amazing brunch in the yoga shala/hut looking out to sea, and arrivals of huge plates of fresh fruit salad, delivered to whichever end of the beach you have chosen to pitch up. Then a gong is sounded for pre-dinner meditation, which is often taken on the rocks of the cliff edge looking out to sea. Oh and the dinner, like all food here, is delicious – my favourite is the butter paneer curry. Yum!
For those who want quiet time, it is available. Despite the numbers (more than I have encountered before on a retreat), there is plenty of room in this secluded private cove in south Goa. For those who want to chat, everyone is very friendly – both staff and 'retreaters' (who are a mixture of single travelers, couples and twosomes of friends).
There are around 25 people from all over the world (with a predominance of English or German speakers) on this retreat, and most spend around 5-14 days here. Initially, it seemed like a lot of people when I arrived to see them finishing morning practice in the main shala but since then classes have been separated between beginner and advanced and the two open huts.
'It's just yoga'
I'd recommend both classes – there are always different asana (posture) options! Ravi, one of the wonderful teachers, opened the beginner class by pointing out that asana means to hold a posture in the way that's comfortable for you. A philosophy that rings true here.
The advanced class is challenging but is suitable to all as Pardeshi, who runs this class and the retreat as a whole, offers variations according to ability. Both have a strong emphasis on pranayama (breathing practices) with up to six breathing practices at the start of class – all fully explained and demonstrated – and lots of interesting warm-ups. Great effort is made to explain everything including the health benefits of poses. Your energy levels really do increase after a few days here – and after the exhausted post-travel start.
By western standards, the yoga is a mixture of dynamic hatha and ashtanga styles but Pardeshi says 'it's just yoga, all yoga is yoga', which is true. There are also plenty of opportunities to relax after a challenging sequence. One of my favourite moments here has been lying in savasana (corpse pose) after a round of energetic postures and listening to the sound of Pardeshi singing in Sanskrit, the beat of my heart and the waves rolling on the sea shore.
As I sign off, sat on the beach, I am thinking it will be a struggle not to return to Little Cove. Time will tell.
Little Cove Yoga Retreat offers stays for single travellers from 6,200 rupees per day (around £65), or 4,200 rupees (about £44) per person based on two people sharing. It is open from November to April inclusive.