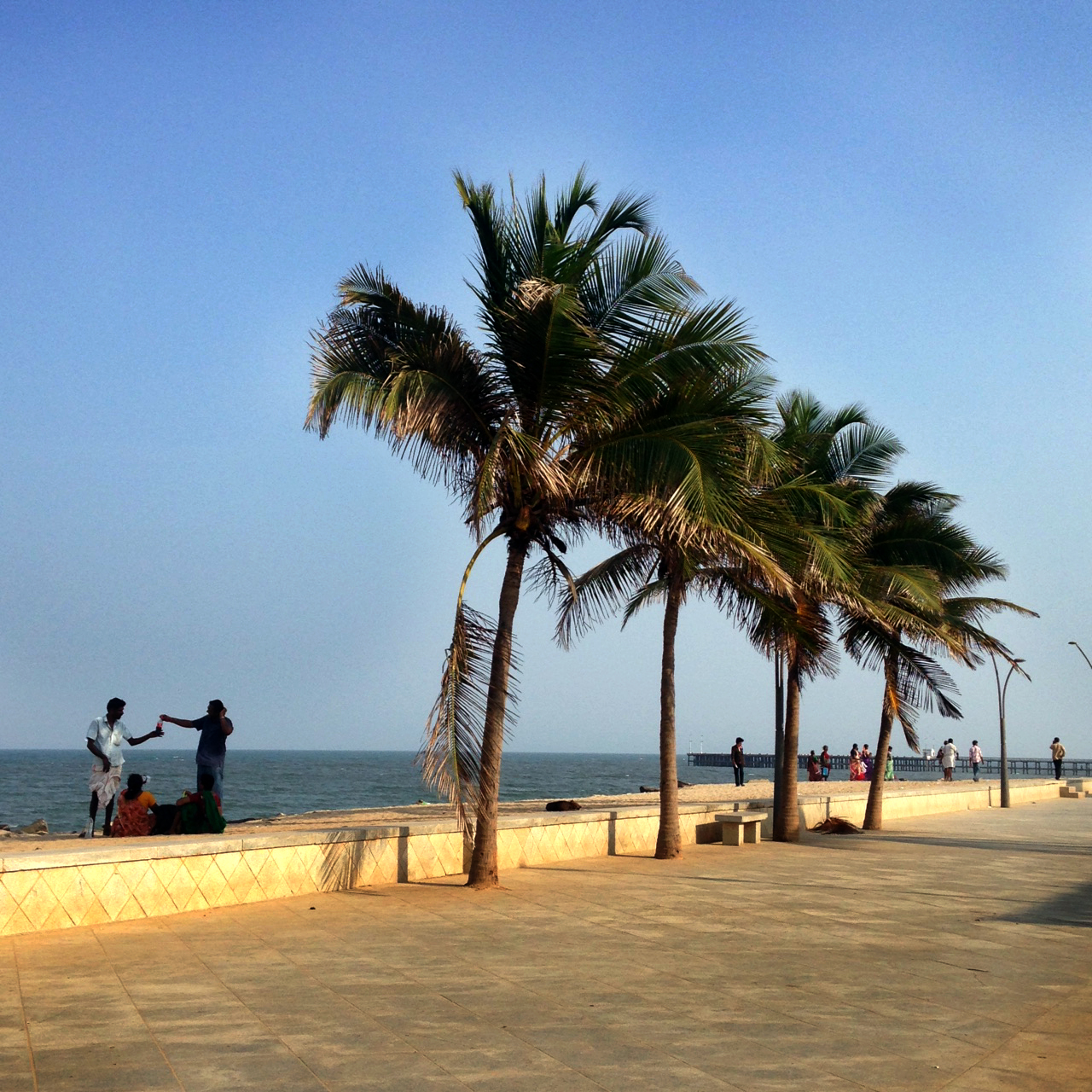 When I was looking at visiting Pondicherry I couldn't find a bad word about the place.
Seriously, I tried (I like to be prepared).
But Google and fellow travellers – eastern and western – would only deliver kind words about the former French colony, affectionately known as Pondy.
Now I know why. And better still, I have memories to cherish forever.
But I did struggle with some small practical details that would have helped to make life easier and allay the fears of a lone traveller.
So, here is my guide to make your trip to Pondicherry just perfect.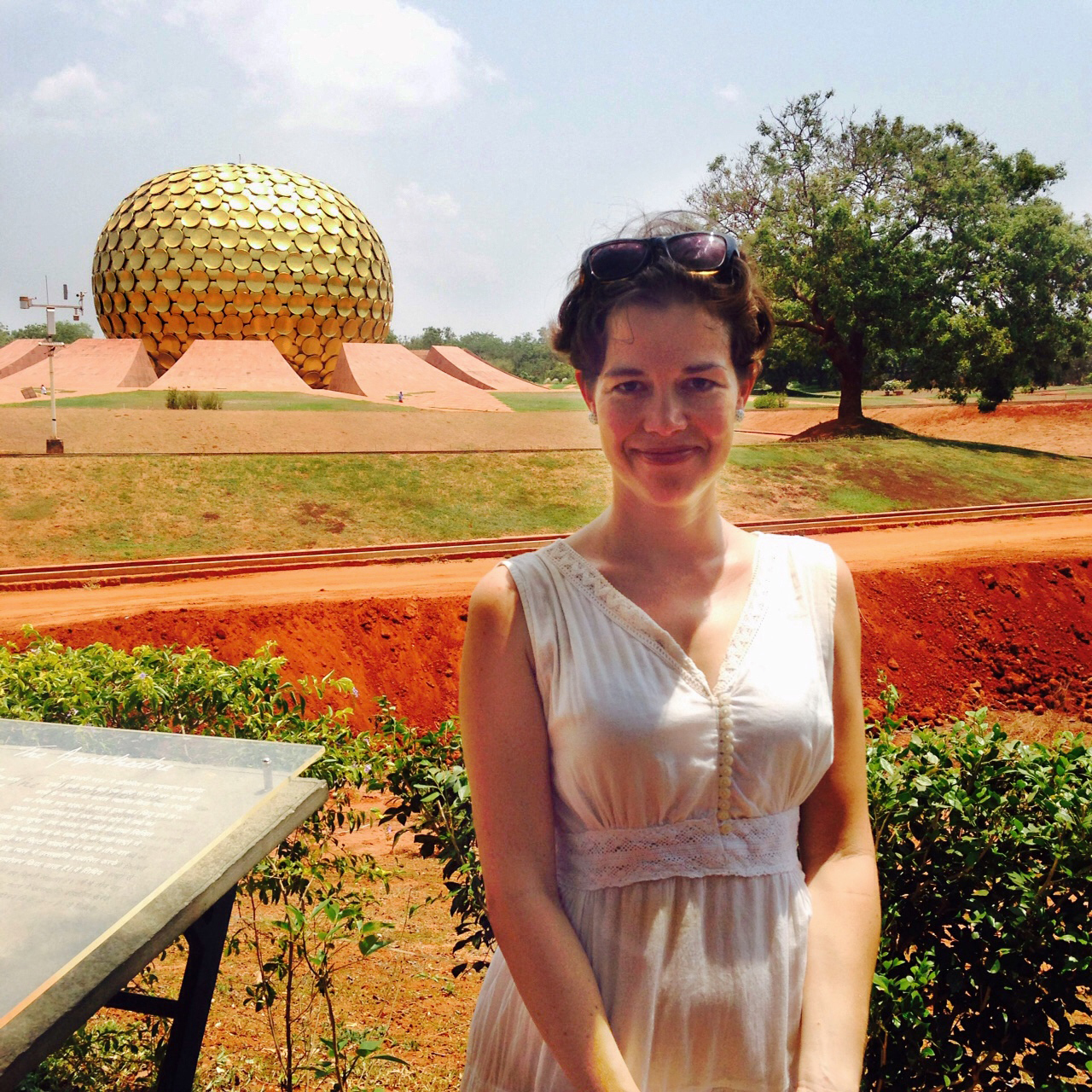 Travelling to Pondicherry
Most people travel to Pondicherry from Chennai, which is about 170km away and also in the state of Tamil Nadu. I booked a bus, through Rathimeena Travels, to Pondy for about 450 rupees (£4ish). I found it difficult to work out where the nearest stop was as many are simply under a tree on a roadside. I opted for Koyambedu bus station (about 30 minutes cab or rickshaw ride from where I was staying near Anna Salai).
Top tip – Don't listen to the bus website about printing your ticket and id, you only need the booking reference number.
Check your bus has aircon when booking as quite a few don't have it. Also factor in delays (especially if you want to arrive before sunset which is safer) – my bus was supposed to take 3.5 hours but actually took 4.5 hours. The aircon bus is very comfortable – the only downer is the loud films they play from the screen at the front of the bus.
A tuk tuk from Pondicherry bus stand (there's only one but you can ask to be dropped off earlier, for example in Auroville) to the French colonial area is around 400 rupees (£4ish).
Travelling back to Chennai? Taxis this way are often less expensive than traveling to Pondicherry, about 3,000 rupees (around £30). If you're going to the airport this the best option. Try Pondicherry Car.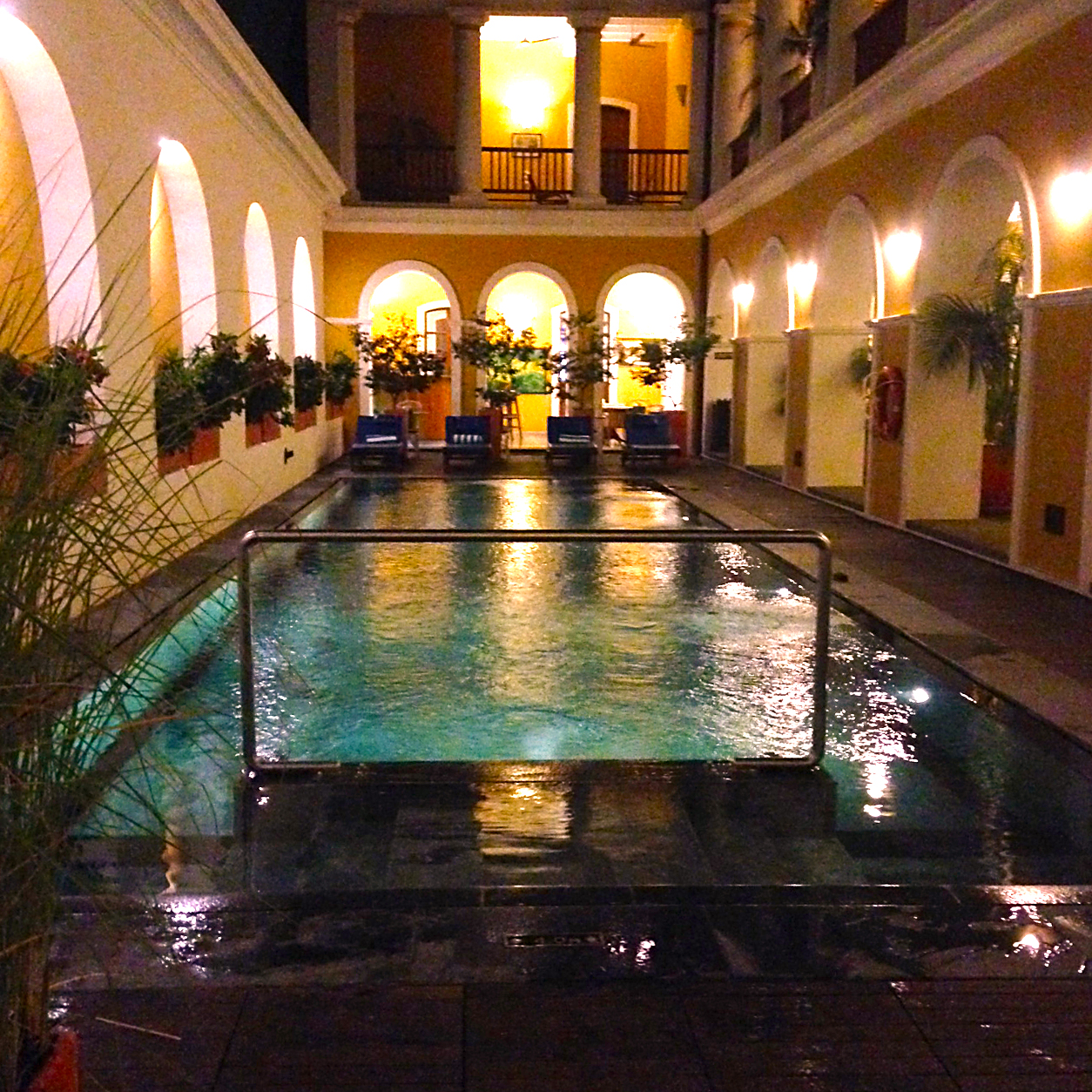 Where to stay
I stayed at Palais de Mahe in the French quarter, also known as White Town.
The beds are incredibly comfy (they are worth commenting on!). The bathroom also has a range of gorgeous smelling and great for the skin/hair Ayurvedic products. The staff are very helpful and knowledgable and the food, particularly dinner, is delicious. My favourite is cinnamon prawns, lentil encrusted catch of the day and a bee's knees cocktail (gin, lemon and honey – hey, it's practically medicinal!).
Oh, and the hotel has an amazing pool.
This isn't the cheapest option but is worth it and TripAdvisor and Booking.com have good deals on this hotel.
Poor point – the wifi dips in and out.
Getting around Pondicherry
Go by two wheels! Many hotels, including the Palais de Mahe, offer free bike hire. Ok, the bikes have no gears and so can be hard work but you still get a breeze which in a very hot April (temperatures in late 30c) is to be welcomed.
One of my best memories is cycling along the Promenade before sunset with the sea breeze gently blowing through my hair – and ok sweat running down me – and smiling away.
The bikes have an easy self-bolt so no need to chain it to something.
Sights and experiences
Auroville
Ok, this township isn't technically in Pondicherry. It is about a 30-minute rickshaw ride away (costing around 600 rupees – £6 – for a round-trip in which the driver waits for you).
Auroville is awesome and inspirational and is a must-see.
Its aim is to be a 'universal town' where people of all sexes, races and nationalities live in harmony. It was set up by a French spiritual leader Mirra Alfassa, known as 'the Mother', in 1958.
Auroville has a strong ecological ethos with a number of sustainability projects including the reforestation of its land. It also supports gender empowerment through schemes finding work for women in textiles, and less traditional feminine employment.
The glistening jewel at the heart of Auroville is the Matrimandir. Behind its space age-style gold exterior are 12 meditation chambers in the 'petals' which each correspondent to a flower representing qualities such as gratitude. Within the inner meditation is a crystal ball through which a line of sunlight beams – what a focal point for meditation!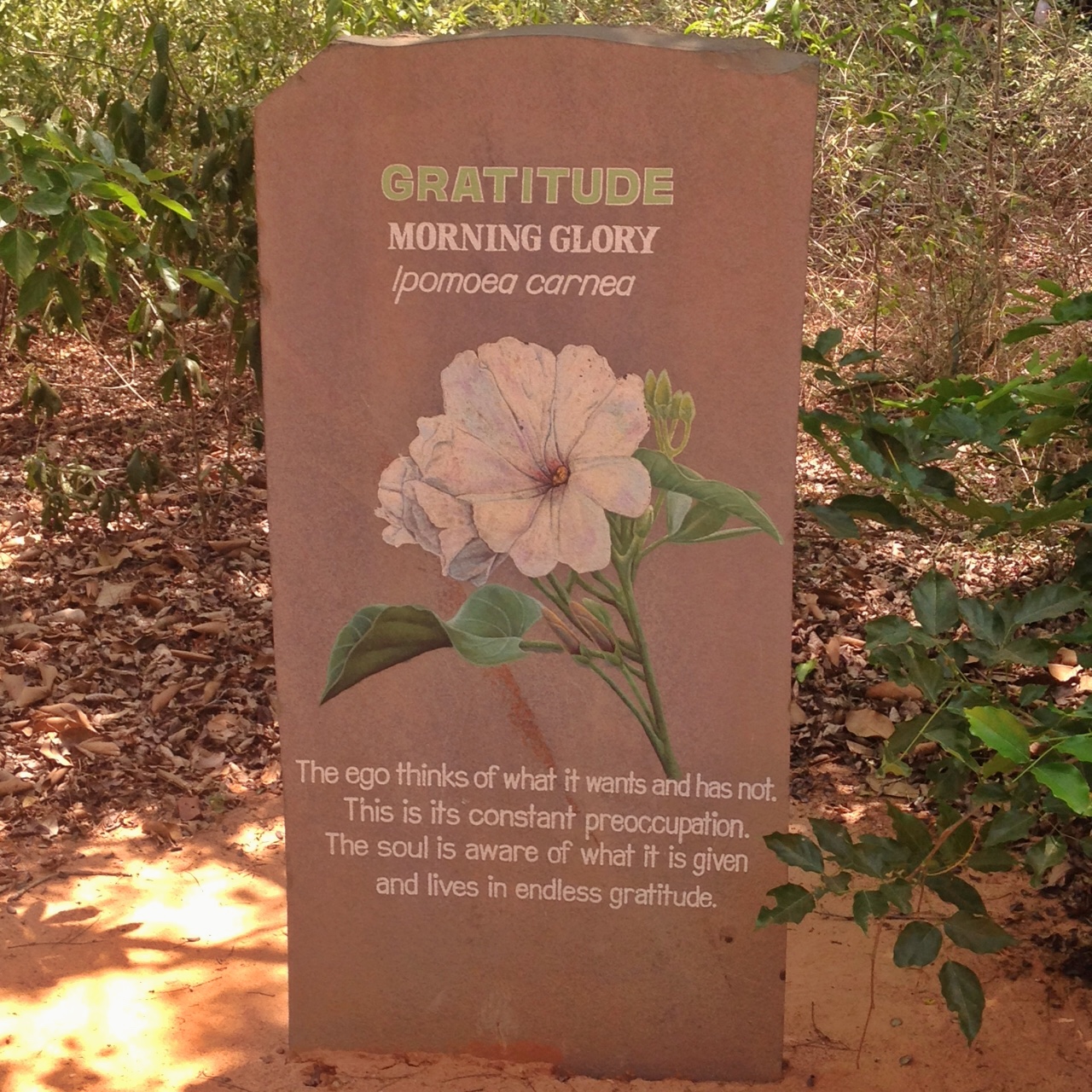 Top tip – Choose the day and time you visit carefully. It is free to enter Auroville. Just show up at the visitor centre and get a pass and visit the Matrimandir viewing point. But gaining entry inside the Matrimandir is a bit more complicated. You must ask for a pass in person for the Matrimandir between 10-11am or 2-3pm. Your pass will be for a day or two after visiting Auroville. It is closed on Sunday afternoons and passes can't be issued on Tuesdays.
I missed out on meditating inside the Matrimandir due to these timings, which I was gutted about.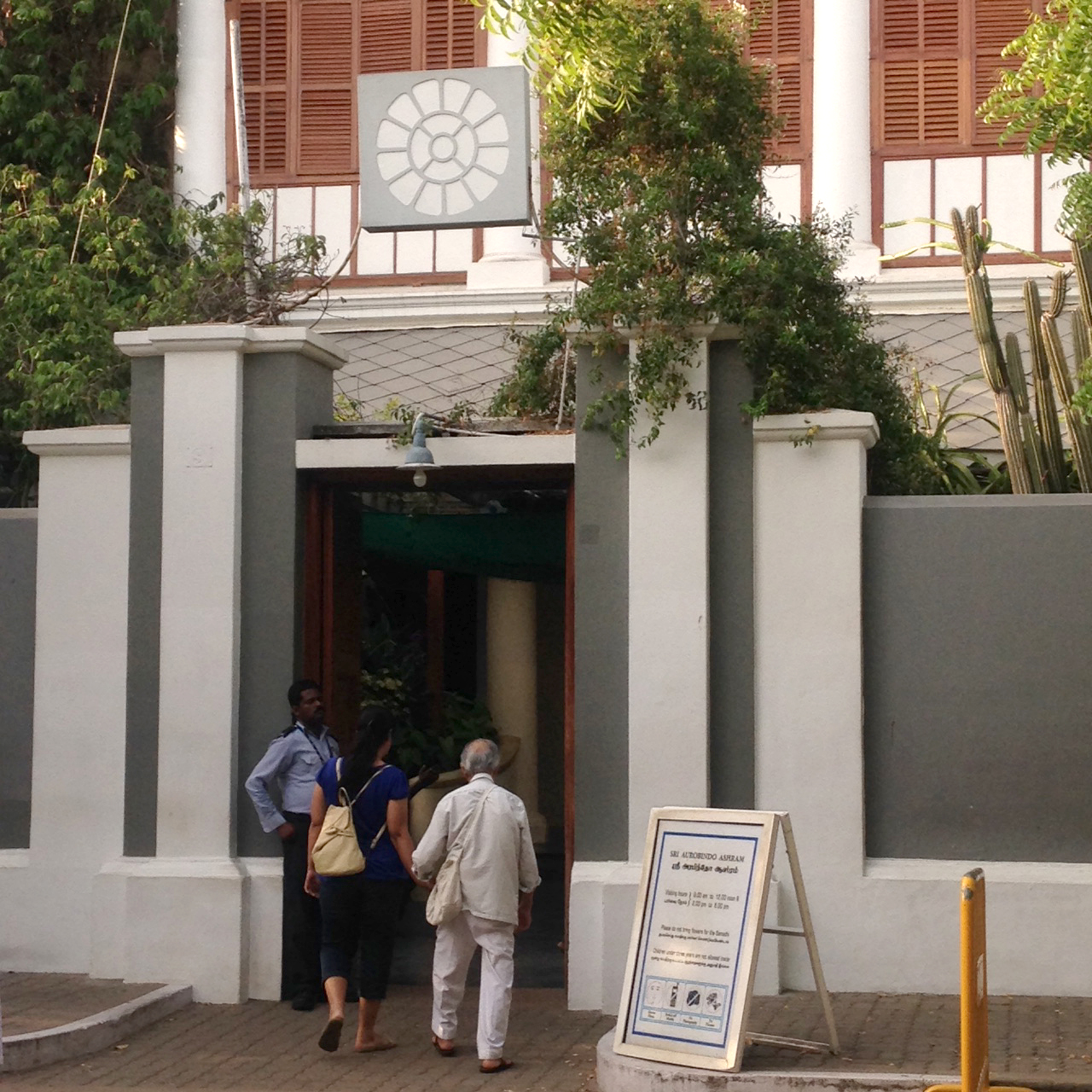 Sri Aurobindo Ashram
The ashram was founded by Indian Sri Aurobindo and the Mother in 1926 and doesn't teach a particular type of yoga or meditation rather allows students to find their own way. It isn't a quiet place as it's located in a busy part of Pondicherry and is open to visitors. But it is worth visiting to attend the evening self-practice meditation session in the courtyard and the bookshop where hundreds of the ashram's publications are available to buy in many different languages for very cheap prices. There are also guided tours available.
Top tip – arrive by 4pm to take part in the evening meditation and bring a towel or cushion to sit on as the ground is concrete. Also be aware that you'll need to use your meditative powers to zone out the scampering squirrels in the courtyard!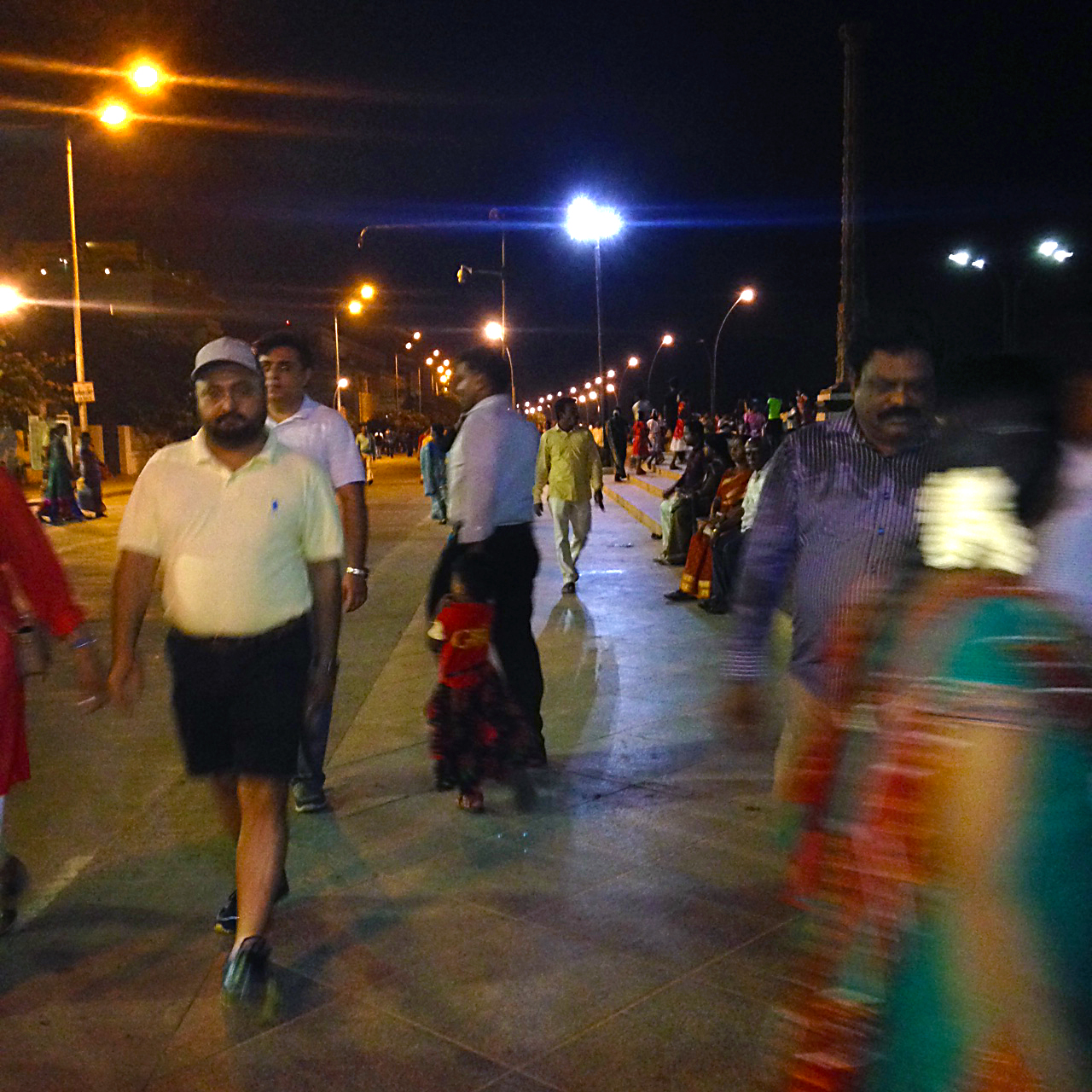 The promenade
It may seem strange to suggest a stretch of pavement as an attraction but a stroll along here after 6pm (when it's traffic free) is great. It is also busy though. You will see hundreds of people – way more than you ever see there in the day. It is also the most hassle-free time and very relaxing.
Eating out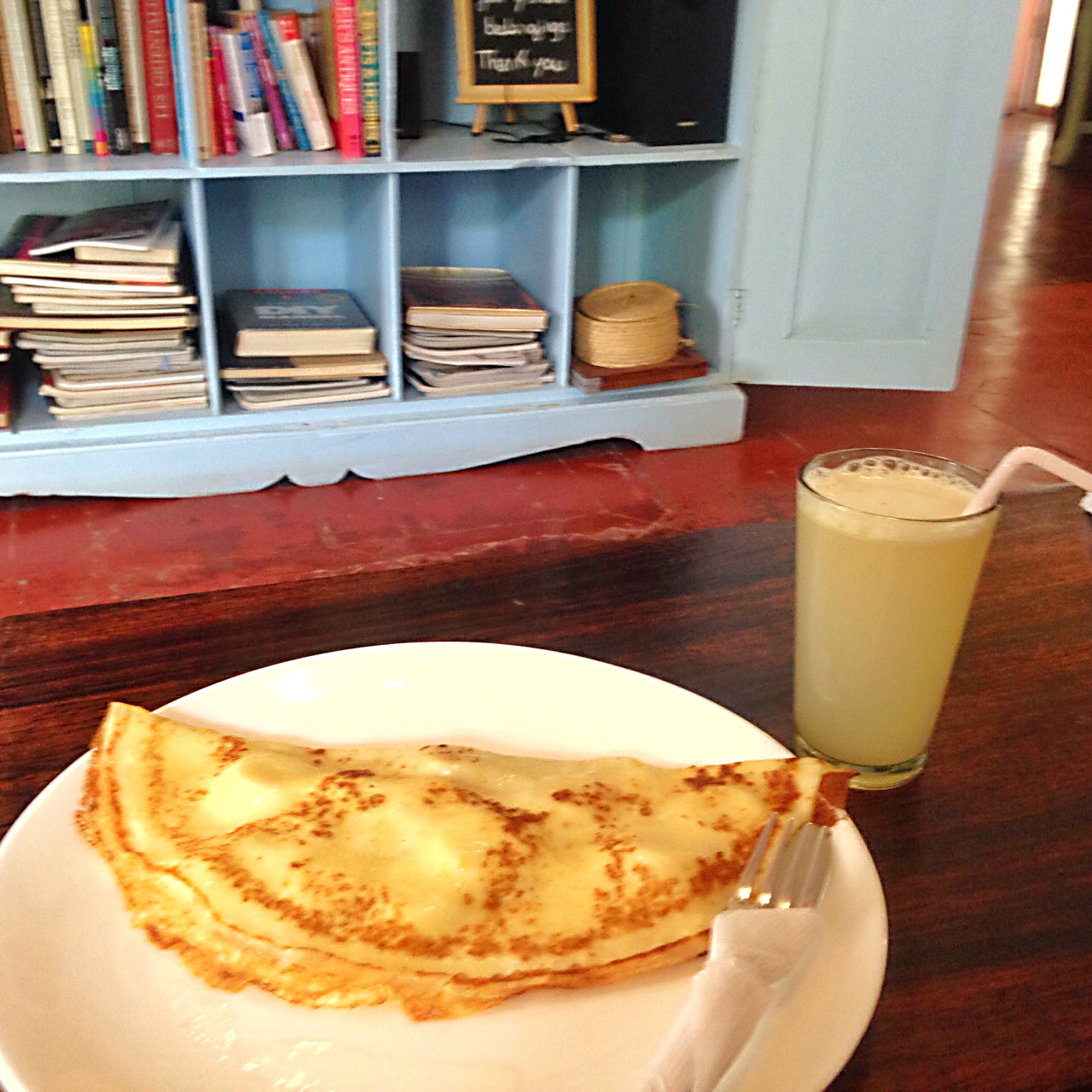 Cafe des arts
This is a cool vintage-styled cafe in the French quarter serving nice sandwiches, crepes, salads, juices and coffee. They also have strong wifi and a nice garden and a vintage clothes shop.
Top tip – opt for the banana and lemon crepe – yum!
Villa Shanti
This is a boutique hotel with a restaurant downstairs. The food and service are excellent. It's a mixture of 'contemporary cuisine' – fish dishes and vegetarian – and classic Indian food.
Top tip – try the aubergine confit for dessert. It sounds strange but is delicious! The fish dishes are very tasty but the fish is a bit overcooked.
Shopping
La Maison Rose
Like Cafe des arts, this is another two in one cafe – an eatery and a shop. The food is good as are the clothes but they are expensive by Indian (and even western standards) – about 6,000 rupees (£60) for a pair of silk trousers. They also sell beautiful cotton and jewellery.
Hidesign
This an international Pondicherry-based leather goods retailer. They sell good quality bags, purses and shoes at reasonable prices. Bags start from around 3900 rupees (£39), for a mixed material bag, and about 5000 rupees (£50) for a leather handbag.
These products are made using eco-friendly vegetable tanning processes. Hidesign also support sustainability projects in India.
Top tip – tourists get 10% discount in store. There is also a Hidesign factory shop up the road.
Kalki
This is a great shop for gifts unfortunately I found some of the staff quite snooty on my visit to their Pondicherry store (and the way they follow you everywhere at close range is very annoying).
But Kalki does sell some great Ayurveda massages oils, perfumes and cosmetics. They also have a huge incense stick range and stock some nice cotton clothes.
Mira boutique at Auroville
This boutique near the Auroville visitor centre sells a great range of women's cotton and silk clothing, and also candles and much homeware. You will struggle not to find a gift for most women you know as there is so much choice from the patterned to the plain. I bought about five items of clothing (not all for me!) and had change from £50.
Again, this is an ethical store with, for example, the blouse prints are produced by local women's projects.
Check out more information on Pondicherry via Pondy Tourism or visit the official tourist information office on the Promenade.